Episodes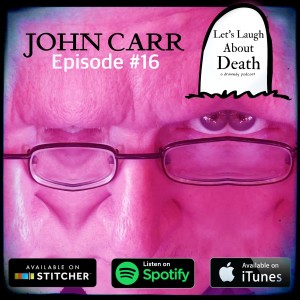 Monday Oct 14, 2019
Monday Oct 14, 2019
Release date: 10/14/19
Free to listen on any platform. 
Let's Laugh About Death - The dramedy podcast that celebrates life while contemplating the inevitable with Host Tim Rooney - of the popular Amazon Prime film series Haunted Saginaw.
This week, my guest is John Carr. John is writer, technical geek, and a cancer survivor. He is someone that I met through mutual friends and then became a friend of mine himself. We have collaborated on creative projects together as well as being all around "bounce-ideas-off-of-eachother" soundboards. 
John gets into some pretty jarring things that I did not know of before this conversation. Quite frankly, it pissed me off that someone could do something so vile to a 10 year old child. In addition, we get into his battle with cancer as well as a further look into the film foundation that I am building. Again, I sound boarded that idea off of him. Cuz, that's what we do for each other. 
Get this show for any platform including these:
iTunes: https://tinyurl.com/y3qxhy37
Spotify: https://tinyurl.com/y3jgryov
Stitcher: https://tinyurl.com/y4qdlklg
Support the show financially just by listening at: https://tinyurl.com/y27m6s8g
#death #laughaboutdeath #afterlife #griefsucks #Hauntedsaginaw #deathanddying #LiveLifeHappy #amazonprime #grievingwithhumor #happy #cancersurvivor #cancersucks #fuckcancer